Erasing the Hard Drive
For whom?
CISO, CIO, Privacy Officer, IT Manager, Data Manager.
Why?
Securing corporate data on end of life IT assets
Comply with laws and regulations
Environmentally handle IT waste
Maximum return on value of IT assets
The IT life cycle
For any organisation, it has become and critical undertaking to manage data/data carriers that have reached its expiration date.
At the end of the IT life cycle of the assets, the business need to ensure the media is disposed of and the data is on it is destroyed.
Before doing so, a lot of Questions arise: "How we are going to empty our computers? What do we with the old data carriers? Are we 100% sure that this is done in a safe manner, how do we do this in a responsible way and we see some of the residual value of the equipment back? "
Answer of this Question of It Manager, CISO's Security and Privacy offices lies with Verified Data Destruction Process.If you are performing data destruction and some third party data destruction services to erase data, Our specialist can help you in securely erasing the data and also verify yours in house erasure processes.
NIST 800-88 r1 – data destruction and IT Asset Disposition
Worldwide, there are several guidelines and recommendations made in a responsible way with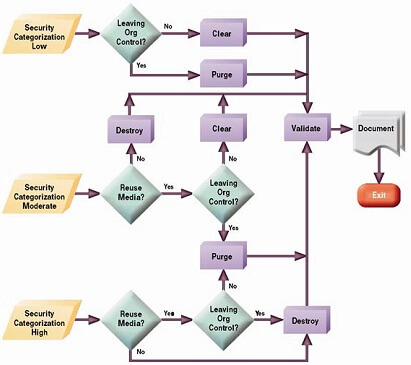 these questions to go and be able to establish a commercial process.Naturally, the question is how to make the hard drive blank or destroy the hard drive and get rid of the equipment (Asset Disposition) ideally already reflected in the purchase of the equipment. The data destruction policies should reflect on data security policies of the company.The National Institute of Standards and Technology (NIST) has a handy flow chart provided here.
With the help of this flow diagram may be decided to format hard disks, erase or destroy the hard drives.
Download a copy of NIST.SP.800-88r1
Erase Hard Drive Data
In contrast, makes formatting "secure delete" sure that the data is not retrievable be a hard drive (or SSD). Not all wipe software can securely erase (to purge) according to the standards of NIST. By securely delete ATA HDDs must include any hidden sectors such as Host Protected Area (HPA), the Device Configuration Overlay (DCO) or the Accessible Max Address will be deleted. The program BitRaser Stellar fulfils the requirements set by NIST.
For (larger) organisations The following points are important when choosing a good software for data destruction:
Have you destroyed all the data? Does the tool to the NIST standards for "Purge".
Does the tool support my media device? Hard disks differ from solid state drives (SSDs). Is that tool suitable for this?
Does the Supplier provide with a valid certificate? The supplier guarantees in writing that the data is erased?
Provides the tool a proper audit trail for? Can you even after years still demonstrate to auditors that destroyed correct data from the organisation?
Is the wiping performance adequately monitored? Clear without control is not enough.Without control, you have no conclusive audit trail.
Can you efficiently and effectively a greater amount of data carriers with the tool fuck?Within a business setting, this is a critical question. How long have you or your employees engaged in the entire to erase cycle? Deleting a single data carrier, or a few hundred entries carriers per month makes a big difference. Also in the administration and audit trail.
Can you centrally manage the deletion? Is the result of a central administration or you need any documentation for review from various Excel sheets gather together? How reliable auditors found it last?
Does the software company also manage services? It can be very useful if you prefer to outsource the entire delete process.
Destroy a hard drive
There are several ways to destroy physical data devices or storages. If the security it provides or software is not possible because the data carrier no longer one hundred percent of operating a data carrier can be destroyed physically.Does the software these services?
You can use the diagram above to determine whether data should be destroyed physically or software.
Stellar goods and services
Stellar Data Recovery provides a range of products and services in the field of data destruction and IT Asset Disposition.
Stellar Wipe Authentication service.
Third party certification erasure. Stellar checks removed the extent to which all data from a medium and gives a document for audit documentation.
Stellar IT Asset Disposition Services
Full outsourcing your IT Asset Disposition. Collecting, making ready for transport, transport, data destruction certificates, repair, refurbish, lease returns support, remarketing and recycling.