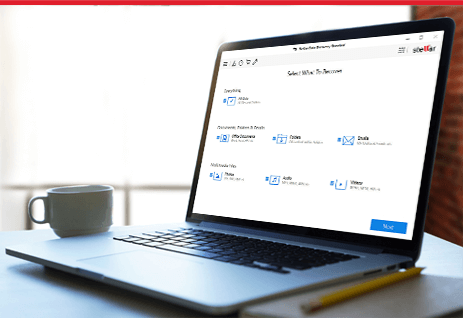 The all new Stellar® Data Recovery Professional for Windows software is the newest and the most complete tool for you to help you recover your lost or deleted files, folders, documents, photos, videos and other important data, including those of your own file types. The software tool automatically jumps to the hyper performant "raw recovery mode" in case of severe corruption of your data files and other data loss events caused by accidental formatting or deletion. It helped millions of people all over the world recovering their data. Works with a simple 2 step process.:
The Pro editions offer all the functionality of the Home edition, plus:
allows you to create a full disk image and recover data from the image
allows you to make "raw" recoveries to recover severely damaged files
allows you to add more file types including your proprietary file types
allows you to perform cd/dvd recovery
offers advanced settings as file formats, add/edit header, etc.
Stellar® Data Recovery Professional for Windows recovers data from all types of storage devices that have NTFS, FAT32, FAT16 or exFAT file system. The program should be installed on a system with Windows 11, 10, 8.1, 8, 7 (Service Pack 1).






Quick Comparison
| | Free | Standard | Professional | Premium | Technician | Toolkit |
| --- | --- | --- | --- | --- | --- | --- |
| Recover Data | Upto 1GB | Unlimited | Unlimited | Unlimited | Unlimited | Unlimited |
| Evaluation Software | Free Download | Free Download | Free Download | Free Download | Free Download | Free Download |
| Recovers Deleted Photos, Videos, and other Critical Files | | | | | | |
| Recovery from Formatted Systems | | | | | | |
| Recovers from Any Storage Media | | | | | | |
| Recovers Data from NTFS, exFAT, FAT(FAT16/FAT32) | | | | | | |
| BitLocker Data Recovery | | | | | | |
| Recovers Files from Lost Partition | | | | | | |
| Supports Unbootable System Recovery | | | | | | |
| Optical Media Recovery (CD,DVD, HDDVD, Blu-Ray Disc) | | | | | | |
| Creates Disk Image | | | | | | |
| Monitors Hard Drive Health (SMART) & HDD Cloning | | | | | | |
| Repairs Corrupt or Distorted Videos | | | | | | |
| Repairs Corrupt or Distorted Photos | | | | | | |
| Repair Multiple Videos or Photos simultaneously | | | | | | |
| Extracts Thumbnails of Images | | | | | | |
| RAID 0, 5 & 6 Data Recovery | | | | | | |
| Supports Creation of Virtual RAID | | | | | | |
| Virtual Drive Recovery | | | | | | |
| Recovers Data from Linux and Mac Drives (HFS, HFS+, ext2, ext3, ext4) | | | | | | |
| | Free Download | Buy Now | Buy Now | Buy Now | Buy Now | Buy Now |
Technical Specifications
About Product:
Stellar Data Recovery for Windows
| | |
| --- | --- |
| Version: | 11.0 |
| License Usage : | Single User |
| Edition : | Standard, Professional, Premium, Technician, Toolkit |
| Language Supported : | English, Deutsch, Français, Italiano, Español, 日本語 , 한국어, Português Brasileiro, Dutch, हिंदी |
| Release Date : | February, 2023 |
System Requirements:
| | |
| --- | --- |
| Processor : | Intel compatible (x86, x64) |
| Memory : | 4 GB minimum (8 GB recommended) |
| Hard Disk : | 250 MB for installation files |
| Operating System : | Windows 11, 10, 8.1, 8 & 7 (Service Pack 1) |