RAID Data Recovery Services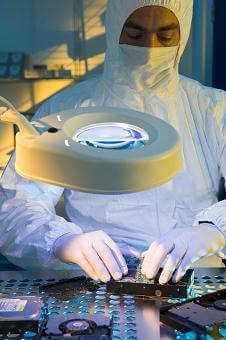 With over 20 years of experience in the field of data recovery, Stellar has the latest tools and techniques required for a specialisation in Raid data recovery.
Whether it is a simple Raid recovery in a server ( Raid 0 Recovery, Raid 1 Recovery, Raid 5 Recovery ) or to a complex situation ( RAID 50 recovery, RAID 10 recovery, RAID 6 recovery, RAID 6EE recovery ) in data storage boxes ( NAS recovery , SAN recovery ) that have multiple RAID arrays with large storage capacities, our RAID recovery experts ensure maximum recovery for all RAID levels.
Stellar has a first class infrastructure, its own R & D department and a team of trained engineers who are experts in the field of Raid recovery. Stellar can. Therefore, data recovery from all RAID systems has logical or physical problems, such as the failure of the RAID array, failure of the RAID controller, do not want to boot from the server, failure of the Rebuild, damage Strip, failure of hardware, volume / partition not found or inaccessible, damaged RAID configuration, database corruption, damage to software oR a crash due to an upgrade of software or operating system.
Facts about RAID Recovery
In most Raid arrays, the data is divided over the different hard disk drives that are part of the Raid array. As a resulting loss of data in a RAID array, although less frequently, tough to recover. All systems with RAID level 5 or higher can the loss of one disk in the array capture and restore itself after replacing the failed drive all information. But as soon as something goes wrong with two or more hard disks at the same time – something that can happen for example after a power surge, RAID controller failure or mechanical defects on a hard drive – your data can be lost.
If there is no backup in these cases of data loss, then the only option left to enlist the help of a company that specialises in RAID array recovery – such company is able again to recover your valuable data. Stellar is such a reliable, and experienced company that can perform RAID array recovery for you and your organisation can help to quickly back into operation. In almost Stellar can recover your valuable data all cases of failure of RAID systems, because the company has a lot of experience and can restore almost all cases of data loss your sensitive data.
Safe way to recover data from raid array recovery
Our skilled and highly qualified RAID data recovery professionals first make a copy of any accessible hard drives that are in the RAID configuration, to ensure maximum RAID array recovery and to avoid further damage to the original discs. After receiving the RAID array, we make an immediate diagnosis of the damaged RAID drives and put the cause of the failure, ensuring that we can determine the right approach for the RAID recovery process. Because the data across multiple disks is split, it is tough to recover data while maintaining the internal cohesion of folders and files.Raid recovery, therefore, requires not only specialised software tools and technologies for Raid recovery but also real expertise and thorough knowledge of the way data is managed in all RAID configurations.
Because the data storage in RAID systems is so large, it takes much more time and effort to perform RAID recovery. However, the skilled and trained experts of Stellar can provide all types of failure of RAID arrays, so logical failures, failures of firmware, electronic defects, and even mechanical failure.Special ISO certified Class 100 Clean Rooms discs are treated with the company developed tools and technologies Raid data recovery.
RAID Recovery Options:


RAID 0 recovery
RAID 1 recovery
RAID 3 recovery
RAID 4 recovery
RAID 5 recovery
RAID 1E recovery
RAID 6 recovery
RAID 5E recovery
RAID 5EE recovery
RAID ADG recovery
RAID 0+1 recovery
RAID 10 recovery
RAID 50 recovery
RAID 51 recovery
Any RAID Interface


IDE/ATA/PATA/EIDE
ULTRA/ATA 100
SAS
SCSI
ESDI
Fibre Channel
USB
Firewire
PCMCIA
RLL
iSCSI
eSATA
SATA II/2.0
SATA
MFM