Stellar launches improved partner program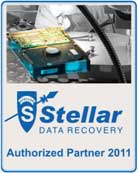 May 27, 2011 – Stellar Data Recovery, a worldwide provider of data recovery services and software launched its improved partner program for the European market. The company introduced its first partner program in 2009 which enabled IT service providers and IT retail shops to extend their line of business with data recovery services. It allowed partners to offer full range of data recovery services under their own label or under Stellar label. Partners had the advantage of using their trusted and known business address for all data recovery cases.
With the new and improved partner program, all customers can directly submit their data recovery cases into the online partner environment. All cases under the new partner program will be treated with priority under fully automated administration. The new program features suite of advanced data recovery software bundles for partners and clients.
"Stellar partners are in a unique position to take full advantage of the bundles and extend their line of business with powerful on-site and instant data recovery. What stays in the partner program are the very attractive discounts and commissions that ensures a financial win-win to all parties," said Kees Jan Meerman, Chief Operations Officer of Stellar Data Recovery B.V.
The Stellar partner program is opened to all IT service providers in Europe including U.K, Netherlands, Germany, Belgium, Austria, Switzerland, Luxemburg, France, Italy and Spain.
About Stellar Data Recovery
Stellar Data Recovery provides highly advanced data recovery software and data recovery services around the world. Stellar has laboratories in most European countries, the United States as well as in India with over a hundred R&D professionals and data recovery experts, multiple CLASS 100 Clean Rooms plus the most extensive range of self developed data recovery software tools. Stellar offers complete data recovery solutions in all cases of data loss.
Contact Information
Stellar Data Recovery B.V.
Contact: Kees Jan Meerman / Chief Operations Officer
81 Oxford St
London W1D 2EU
United Kingdom
Tel: 020 – 3034 0201
Fax: 020 – 3167 0549
Email: info@stellardatarecovery.co.uk
www.stellardatarecovery.co.uk