IT Offers Diverse Possibilities for Women
Stellar interviewed Ms.Namrata Sengupta Head – International Partner Business at Stellar for her experience in the IT sector for the International Girls Day.
"Women are the future and are needed in every business sector even in men domains."
For several years Namrata has been working at Stellar, an international leader in data recovery, who additionally to software products offers data recovery of hardware crashes in own clean rooms.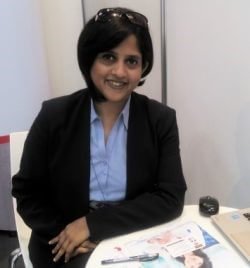 How was your way so far to finally become Head – International Partner Business at Stellar Data Recovery?
I have been working for last two decades in Sales and Marketing across various industries. I started my career working for an IT company, then I moved to an Education House, followed by a Telecom company where I learnt VOIP and IPTV technology. Finally, I am back to IT industry; that's the time when I joined Stellar Data Recovery 4 years back. My journey has made me grow as an individual both professionally and personally. New Technology has always excited me. My journey in Stellar has been fantastic so far. I am a yearner for knowledge, and so far in Stellar my quest for knowledge has always been met. I have got tremendous opportunities to outshine that keeps me happy.
In 5 sentences what is a data recovery company doing?
As a Data Recovery company, Stellar has been a world leader in bringing smiles to critical data loss situations. Fortune 500 Companies and Consumers worldwide have been trusting us for last 23 years for getting their deleted & lost data back even after emptying recycle bin, with NO backups. Now they trust us more so for maintaining their privacy and confidentiality too. We provide data recovery, data migration and data erasure software and in-lab services. We take pride in saying that we are the only ones in the world to have such a broad portfolio of software – more than 120 of them.
Which experience did you make – e.g. different to other industries you worked for?
Stellar gave me a platform to sharpen my Digital marketing skills and enhance my experience of international business. Traditionally, I had doing Offline Sales and Marketing which had minimal digital marketing knowledge.
Why do you think there are still fewer women in IT?
To my understanding, only 20% of Women work in Information Technology industry in the developed countries at various levels, and the % keeps going down as you move up in the hierarchy. The major reason for such small numbers is due to lack of opportunity given to women and gender diversity in the educational pipeline. More so, it is the discrimination done by the parents in early ages and lack of encouragement shown by them to their girl child for taking up technology related subjects.
How do you see the future chances of the woman in IT, do you think it will change?
I can already see positive movement towards closing the existing gender gap in the IT industry. More women than ever before are considering their careers in IT. Historically there has been a lack of encouragement for females to take up IT careers due to the socio-cultural factors that govern the choice of professionals. These include the general attitude towards education, maternity, childcare, parental care and working outside the home in many parts of the world. There are concrete steps that are being taken to educate the girl child and encourage them to make individual career choices, for example, in India, we have the "Save the Girl Child & Educate the Girl Child" scheme aiming at the welfare and education of girls in India.
What would you recommend to girls around the globe who are not 100% sure to dare to work in the field of IT?
I would advise them to take bold decisions and trust their abilities. IT is interesting and offers different opportunities for women. There are many examples of successful women who can act as fantastic role models. For example, Facebook COO – Ms Sheryl Sandberg, Google & YouTube CEO – Ms Susan Wojcicki, HP CEO – Ms Meg Whitman are amongst the many influential and successful women in IT today who have created a mark in the industry.
Personal corner:
What wanted you to do (become) as a girl 10 years old?
Frankly speaking, I wasn't too clear on what I wanted to become at the age of 10. However, I used to play doctor-doctor and was inspired to become a doctor.
Which zodiac sign are you?
I am LEO by birth.
Which education did you do?
I am an Economics graduate and then did my honours diploma in systems management.
Hobbies?
Photography and Cooking are my hobbies in my free time. I love to click and capture memories. I am fond of cooking for my family. I am always excited to experiment with new dishes with my daughter.