Handy Tips to Protect Your Electronic Devices at the Beach
Beach holidays are all about soaking up some sun, being safe and having fun, right? The weather was perfect and many of us are back from our annual vacations. Now that vacations are over we are updating our Social Media accounts with pictures from our memorable vacation. It's more tempting than ever to carry along your smartphone, DSLR, laptops etc. to click pictures and selfies and instantly upload on social media, to read your official emails and getting some work done while enjoying the sun. What if any mishap occurs?? Drop iPhone in water or SD card slips from your hand into your drink. How do you intent recover data from Water Damaged Device?
"According to a study, 38% of leisure travellers and 57% of business travellers use mobile for travel information."
In preparation for the beach holidays, you may need to make a few adjustments to protect your gadgets. You may bring sunscreen and oils to protect yourself from sunburn while relaxing under the sun, sand, and water but our gadgets definitely do not. You need to consider protecting your electronic gadgets before hitting the beach.
Don't Let Anything Ruin Your Beach Holidays
Sand, water, the sun can be a spoilsport by ruining your vacations. While you enjoy your holidays, it is equally essential to safeguard your electronic devices. Let's suppose, while taking a selfie, you drop your iPhone/smartphone or while building a sand castle, you accidentally dip your phone or DSLR and they get soaked and sandy, your devices get water damaged. All the scenarios are possible, and ironically, there is a myriad of other reasons.
At the beach, there are minerals which conduct electricity and after coming into contact with your electronic devices, they may short circuits the devices. Then there are other factors which come into play such as oxidation, corrosion and other chemical reactions which further aggravates the situation. So, these are obvious threats, which can ruin your beach holidays.
Some Protective Tips Which Can Help You To Keep Your Devices Safe
Holidays are to rejuvenate retreats and are good for our well-being, for experiencing joyous moments, and capture each and every moment; Therefore, to have a good time, ensure that you follow the below-stated tips to safeguard your electronic devices.
Zip Lock:
You can prevent your electronic devices from getting water damaged by simply carrying a Zip lock bag. Just place your devices and SD cards in the zip lock and you're good to go and the good thing is that you can use your phone's touch screen even though the zip lock.
Waterproof Smartphone Case:
Be it, kids or adults, no one can stop oneself from running and jumping to the swimming pool or sea shores. Therefore, you need good waterproof cases for your electronic devices to protect them from sand and water. You can easily operate the smartphone from your Waterproof case.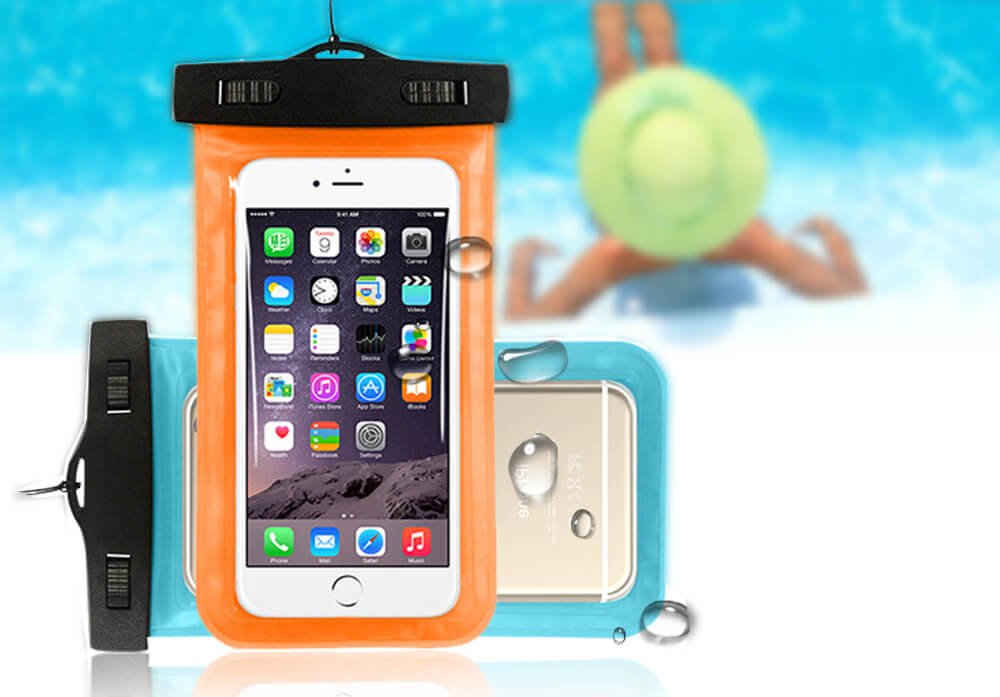 Keep the cases away from direct sunlight as they may not protect the devices from heat damage.
Check The Temperature:
According to Apple, iOS devices are not meant to operate at temperatures higher than 35 degrees or 95 Fahrenheit. It might be possible for other smartphones as well. The mobile phone switches off itself when the temperature reaches a critical value. Therefore, it is advisable to check the signs of overheating as it may cause the device to unexpectedly shut off resulting in data loss.
If you're not using the electronic device, simply shut it off and keep it at a safer place.
Waterproof Polyurethane Camera Case:
Waterproof camera cases are perfect for sandy beaches and pool, water photography. You can easily click pictures without the risk of soaking it. The waterproof camera cases keep out sand, water, dirt, dust and are definitely worth for protecting your cameras.
Now keep your DSLR dry and show off some photography skills on the beach, sea, and pool.
Backup Everything:
Before you hit the beach, make sure that you have backed up everything. In case, you lose, damage or some one steals the device, at least you have a backup of your data from which you can recover. Another tried-and-tested method is to leverage an SD card recovery software.
Recovery software will only function when the device is in working mode. Don't try to run applications on physically damaged electronic devices.
Some other strategies:
Do not attempt to operate on damaged devices
Do not use the devices for a longer period as it will overheat it. Minimize the usage of applications, video games, GPS, etc.
You can leverage iPhone's security option i.e. "kill switch" feature to remotely lock and wipe the data
Wipe your hands clean before handling the electronic devices
Never open the water damaged device as it will get exposed to heat
To keep your gear dry, pack it with moisture reducing silica gel
Seek the assistance of data recovery services to recover important data
How to Fix A Water Damaged Electronic Devices
Practicing these tips will ensure that you enjoy the moment to its fullest. In addition, you should never leave your belongings unattended, whether you're taking a dip or surfing, make sure that your device is safe.
Moreover, if you experience data loss for water damaged devices, it is most likely recoverable. You can contact Stellar Data Recovery Services for satisfactory results and get all your data recovery queries sorted in an efficient manner.