How to Recover Data from A Corrupted SD Card?
SD Cards are excellent data storage devices. Commonly used in smartphones and cameras for storing photos, videos, and audios. Their wide acceptance lays in their ability to store a large amount of data in digital format for a considerable length of time. However, they are fragile in composition as they can easily break if not properly handled, consequently leading to damaged or corrupted SD Card. Which ultimately leads to loss or inaccessibility of the stored data.
In a situation when you lose access to all your valuable data due to corruption in your SD Card, recovering data becomes a necessity.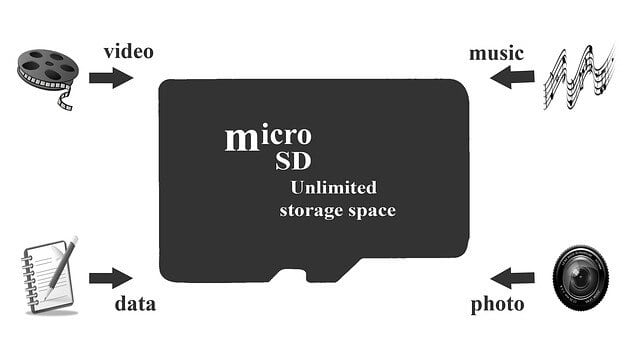 Recover Data From A Corrupted SD Card
You can retrieve data from your corrupt SD Card through various methods as described in the sections below:
1. Use 'chkdsk' Command:


As a first step, you can use the 'chkdsk' command to recover data from your SD Card. To do so, follow the steps below:
a. Click on the Start menu on your Windows system on which you have connected your SD card
b. Open the 'Run' dialog box, and type in 'cmd' in it to open up the Command Prompt window.
c. In the Command prompt window, type in 'Chkdsk e: /r' where 'e' is the letter assigned to the SD card when it was detected as a drive by your system.
Note: The 'chkdsk' command checks the disk for corruption in the structure. The letter 'e:' informs the drive letter it should use and '/r' informs about the issues to be fixed.
In this process of SD Card data recovery, you may get a warning that your drive is not a Windows XP drive, which you should ignore. You should continue the process by pressing 'Y'. With this, it will start to run through the files and directories, consequently recovering your lost or inaccessible data from a corrupted SD card.
2.Use Windows Built-in Tools:
You can also try using the built-in tools in Windows operating system to fix the damaged SD Cards. And get back all your data, provided it is in a healthy state and the switch is in 'write' position. However, your recovery options will vary based on whether the SD Card appears in Windows Explorer or not.
If it does, you should right-click on it, select 'Properties', and then 'Tools'. After this, you should click on 'Check' for Windows to scan the card for errors and fix them; and, if it doesn't, you should look for the 'Start' menu for 'Disk Management'. Check in Disk Management interface, a list of drives window can see is listed.
If you are not able to identify your SD Card in the list of drives, either the SD Card is completely dead, or the Card Reader is not responding in the correct way, possibly because of issues in the drivers. If the SD card is present without a drive letter, you should make attempts to allocate a drive letter to it. For this, you can either right-click on it and use the options present there or format it to a file system that Windows can read and assign a drive letter to it.
3.SD Card Recovery Software:
You can try to recover data by using any external SD Card data recovery software readily available online. There are several free and paid tools that assist in data recovery of lost data due to corrupted SD Card. For instance, any third party SD card recovery applications that you can use. However, these software tools come with a few limitations.
Firstly, they can recover data only if they can detect the SD Card. Secondly, the data files may not be intact, and they may lose their original name, which can be an issue. Thirdly, data cannot be recovered from physically corrupt SD Cards, but only from logically damaged ones. Most of the freeware provides a limit on the amount of data or the number of files they can recover. Above all, many unwanted programs may also get installed. Therefore, you should never go for the 'Recommended' installation option; instead, you can select the 'Manual' option for installation purpose.
4.Corrupted SD Card Recovery Service:
Another way to fix corruption issues in your SD Card that may contain photos or other data. With this, you can fix both physical & logical corruption issues and recover complete data. Here, Stellar Data Recovery UK with its expertise serves the purpose. They aim at providing quick and efficient corrupted SD card recovery services.
Conclusion
Now we have mentioned methods to recover data from corrupted SD card, do employ one that fits the requirement. This way, you can leverage Corrupted SD Card Recovery recovery services and its out-of-the-box solutions for all your SD Card issues.
If you are looking to recover data from your corrupt or damaged SD card Call us 020 3034 0201 or Submit Your Media here.