QNAP NAS Recovery
Call 020 3034 0201 to speak with our QNAP NAS Recovery Specialist!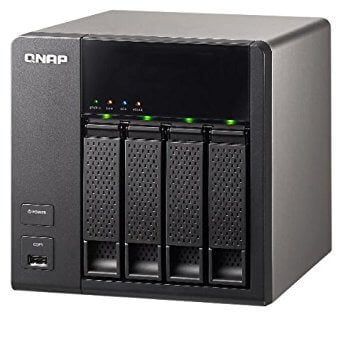 QNAP Systems, Inc., a Taiwanese company that specialises in providing network attached storage (NAS) along with Network video recorders (NVR) and Digital Signage (DS) solutions. The company aims to amalgamate technology and design to improve business efficiency on file sharing, storage management in businesses and also for home users.
The NAS devices have occupied the space between external hard drives and servers and have performed extremely well. These NAS devices are plugged into your router, and the data is channelled into the computer, laptops, etc. A NAS may look like a simple device from outside, in fact, a lot is going inside a NAS Device. The devices have their CPU, RAM, motherboard and an operating system.
QNAP's NAS variant are more robust devices and meant for personal use or can be utilised as a server for a small business. The QNAP NAS devices are redundant its remote replication feature allows data to be easily copied. Thus making its best options for home and business servers.
Nevertheless, data failure or data loss in possible on QNAP NAS just like on any system regardless of the robustness or redundancy level.
Stellar Data Recovery provides QNAP NAS recovery services on any QNAP NAS models. Call 020 3034 0201 on to get started or submit Request for Call Back.
QNAP NAS Recovery from Failed/ Damaged/Dead NAS Devices
With the help of our experienced NAS Recovery Specialists who have extensively done research for NAS/RAID. Stellar Data Recovery extensively uses Class 100 clean room lab for NAS systems and guarantee up to 100% data recovery from Failed QNAP NAS or QNAP NAS firmware failure.
Symptoms of QNAP NAS Failure
Syntax or usage error
Usage Error
Incompatibility of protocol
Error in Socket or file I/O
The client-server protocol error
Error allocating core memory buffers
Partial transfer due to error
Partial transfer due to vanished source files
Timeout in data send/receive
Do & Don'ts for Successful QNAP NAS Data Recovery

Avoid rebooting or rebuilding QNAP NAS.
Do not install anything on the NAS devices
Reinitializing RAID sets will be more damaging.
Switch off the NAS unit in case you see any signs of failure.
Apart from the tips mentioned above gather information about QNAP NAS failure as much as possible. The error types, the symptoms, the number of installed drives, etc. Get in Touch with QNAP NAS recovery specialist as soon as possible.
Call us now at 020 3034 0201 for a free consultation.